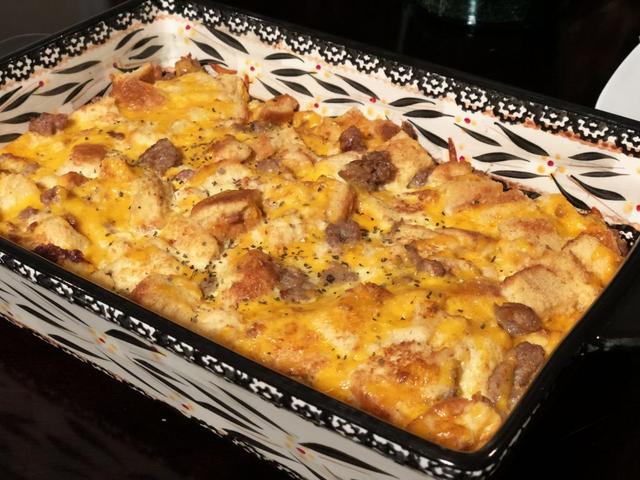 https://images.app.goo.gl/KkpyzthGgrXSw47i7 
Sorry about the photo- my phone got shut off and I can't upload pictures
With the weather turning cold, this is one of my favorite dishes. If you're counting calories or cholesterol, this may not be for you. On the flip side, it is very easy to make. I made one yesterday and it was great- I'll be eating it for a week. Bruno likes it too (except the peppers). He loves the apples.
Ingredients:
2 packages Italian sausages- I usually use sweet sausage but sometimes I do 1 sweet and 1 hot
4-5 Macintosh apples- these are the ones I prefer, they're very versatile. However, Granny Smith or any other cooking apples will do.
2 Bell peppers (optional)
Parmesan cheese
1-1 1/2 lb Mozzarella cheese (I go with at least 1 1/2 lb)
Instructions
Preheat oven to 375 degrees.
Core apples and slice into wedges about 1/4 in thick
Slice peppers lengthwise into 1/4 inch strips
Brown sausage on medium heat puncturing browned sides with a fork to release juices. Retain sausage grease.
Brown apples and peppers in sausage grease until they begin to get soft.
Arrange sausages in 10 x 13 baking dish and cover with apples and peppers.
Sprinkle with Parmesan cheese and cover with Mozzarella.
Bake at 375 degrees for about 20 - 25 mins (until cheese is nice and brown)
Allow to cool 5-7 minutes before cutting.
This goes great on cold days- it'll really stick to your ribs (and arteries). I only make it 2-3 times a winter now- ok maybe 4-5 (I can't lie). It's so good. I recommend trying it without the peppers first to see how you like it... I really like sausage and peppers together. Anyway...
Buon Appetito