I want to keep it short and straight to the point. Below is my selection.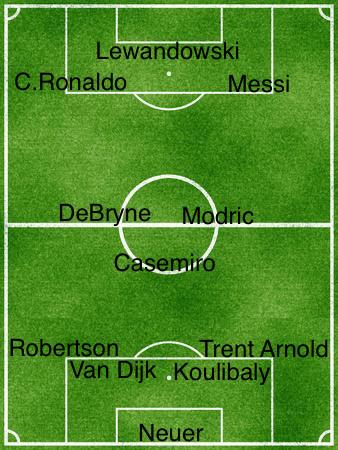 Goalkeeper
Manuel Peter Neuer is my best goalkeeper. He is the captain of Bayern Munich and also the captain of the German senior national team. He's been my bestkeeper for awhile and with Bayern winning the just ended UEFA Champions League, I believe he deserves it.
Defenders
Andrew Henry Robertson is my chosen leftback. The Scotland international plays for Liverpool, winners of the 2019 Champions League. He's been an outstanding leftback.
Virgil van Dijk I doubt if anyone can mention top 3 defenders and not add him. Arguably the best defender in the world, Van captains the Netherlands national team and Liverpool.
Kalidou Koulibaly the captain of the Senegal national team plays for Napoli. He was a target for Pep and I think he's one of the best in the world.
Trent John Alexander-Arnold one youngster who's doing pretty well. I'm not a Liverpool supporter, but I'm a bit biased to the English Premier League and Arnold is one of the best right backs out there.
Midfielders
Carlos Henrique Casimiro is one of the best holding midfielders in the world. He plays for Real Madrid and was part of the squad that won 4 champions league trophies in 5 years.
Kevin De Bruyne is one of the best players in the world and I often regret my team's (Chelsea) decision to sell him. His "ball sense" is great and on a good day, he can change any game. He plays for Manchester City and Belgium.
Luka Modrić is the reason I supported Croatia in the 2018 World Cup. He plays at Real Madrid and captains the Croatia national team. He can play as an attacking midfielder and also a defensive midfielder.
Forwards
Cristiano Ronaldo dos Santos Aveiro is my best player in the world and he's been my best player for over 10 years now. I couldn't even hate him when he was at a rival club. He plays for Juventus and captains the Portugal national team. He's broken a lot of records and he makes me believe that when you work hard at something, you can achieve it.
Lionel Andrés Messi is arguably the best player that has ever played the game. I like his ball sense and he's the real playmaker. He rarely had bad days and he makes watching football exciting.
Robert Lewandowski is the current best European player. He's part of the Bayern Munich squad that won this year's Champions League. He's a complete striker and converts chances quite often.
This is my current best 11 soccer players in the world.